Remember when we were kids and our favourite thing to do was make forts and play in them all day long? If you were lucky like me, you had an older sister to
boss us around
suggest the proper way to make a fort and then insist on perfection. We had the best forts. I'm not even lying!
So in the spirit of making Bella's room a fun place to play and use her imagination, I decided to tackle this project. It has been on my list of things to do for a while. I even bought the hula hoop months ago! It has too be the easiest project for a kids room and at the end, your kids will think you're the best mom ever!
To make your own, you'll need a hula hoop, a heavy-duty hook (to attach to the ceiling), strong string, curtains and tulle.
Start by cutting open the hula hoop so that you can slide your curtain panels on. I used two curtain panels but you could use more or less, depending on the size of your hula hoop. Once your curtain panels are on, use some tape to reattach the hula hoop. The next step is to attach four equal lengths of string to the hula hoop evenly. I eyeballed this step and then adjusted it later when I was hanging it up. Tie all of the strings together with a strong knot at the end. Screw your hook into the ceiling where you want your tent to hang. Pull on it a few times to make sure that it's secured well. You don't want it to fall on your little one! The last step is to drape the toile around the top until you're satisfied with how it looks. Again, I kind of just eyeballed it until it looked right to me.
Place a few pillows and books inside and you're ready to go!
And since my daughter's room was clean for me to be able to do this, I also took a few more shots of the room so you can see what her nursery looks like. It probably won't be like this for much longer since she's two now and needs a "big girl" room.
Hope you like it! Have you created any "best mom" things lately?
If you haven't 'liked' us on Facebook yet, make sure that you do
so you can keep up with each new post!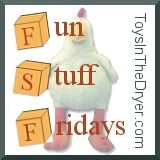 Linking up with Cheap Crafty Mama